Purchase a Ragdoll Kitten
DEPOSIT And WAITING LIST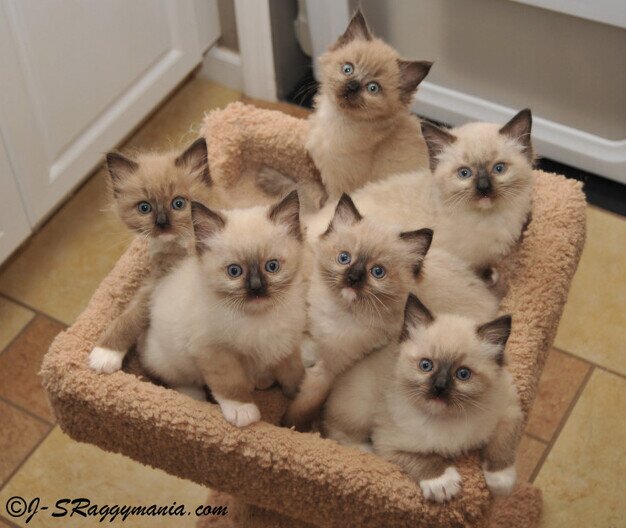 Due to the Ragdoll's current popularity, there is almost always a waiting list for a Ragdoll kitten.
FOR RAGDOLL KITTEN AVAILABILITY,
e-mail: ragdollsraggymania@gmail.com
Phone: 717-898-0916
We require a non-refundable deposit of $200.00 to be immediately placed on our waiting list which will be deducted from the purchase price. The deposit will be held for a period of one year unless previous arrangements have been made.
To Purchase a Rag doll Kitten We accept "Pay Pal" by utilizing the button below to make your deposit through your Pay Pal account. We will then place you immediately on our waiting list.
You may place your Pay- deposit by clicking Below
We will also accept a personal check or money order.
We do reserve the right to return your deposit if we feel your family or environment is not a good match or suited for one of our Ragdoll kittens.
PRICING
The base price for pet quality Ragdoll kittens of the traditional colors and patterns (includes blue/seal mitteds/pointeds/bi-colors) is $1450.00 + $87.00 tax.
This price includes the spay/neuter, vet recommended vaccines, 2 de-worming, and a complete physical by my veterinarian as well as a health guarantee!
The newer colors/patterns are a (Minks) are $100.00 more because they are not as common.
SHIPPING
We will not ship our kittens! Shipping procedures are very stressful for a 16-week old kitten. In addition, we want to meet and get to know each of our prospective kitty buyers.
If driving to my location is not possible, many airlines will permit you to bring your kitten onboard in a carrier and be stowed underneath your seat for an additional charge.
When you contact me initially, I will be interested in the following information:
Career — do you have time to spend with a new kitten?
Your family, children and their ages and if you may have others pets.
I will ask if you have a color/pattern preference and when the kittens are 6-7 weeks old, you will be selecting a kitten based on date of deposit. You are always welcome to wait for a later litter if the color/pattern you prefer is not available.
Of course, there will an appointment to pick-up your new kitten!
Once you and I choose an appointent date for pickup it is imperative that

YOU KEEP

this agreed date because if you miss it your kitten would be alone in his or her nursery because all of the kitten's litter mates will be gone to their forever homes.
I will provide all vaccine info, the letter/exam from my vet, the health guarantee, samples of your kitten's favorite foods and a few of his/her favorite toys! Follow-up is extremely important. When you leave my home with your new kitten, our association is not over. If you have any questions or concerns, I encourage you to e-mail me or call at anytime. In fact, I specifically request at least one follow-up call/e-mail so that I can be assured that your kitten is well-adjusted and happy (as well as you!) It also gives you the opportunity to address any additional questions you may have.